1918 TARZAN OF THE APES (55 minutes - video)


Elmo Lincoln. Enid Markey. This film is the one that started it all; the first Tarzan film and a reasonably faithful adaptation of Burroughs' first novel. Lord and Lady Greystoke are put ashore in Africa. Their baby is born shortly thereafter. After the death of his parents, the baby is raised among the apes as Tarzan.

Years later a search party arrives and Jane is with them. Tarzan, now fully grown, falls in love with her and she with him.

This movie is fun and has a lot of energy. Elmo Lincoln looks mighty chunky as Tarzan to me, but he does a good job. Reportedly, Lincoln actually kills a VERY old lion in this film, but it is hard to tell.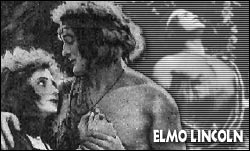 1918 THE ROMANCE OF TARZAN (? minutes)


Elmo Lincoln. Enid Markey. I haven't seen this one (I doubt it still even exists) but it doesn't sound like it was very good.
1920 THE REVENGE OF TARZAN (? minutes)


Gene Pollar. Karla Schramm. I wish I could see this movie! Gene Pollar has got to be the goofiest looking Tarzan ever; even odder looking than P. Dempsey Tabler (see below)! Pollar looks like Tony Randall in a leopard skin!
1920 THE SON OF TARZAN - 15 Chapter Serial (253 minutes)


P. Dempsey Tabler. Karla Schramm. Kamuela Searle. This movie does a decent job of following the ERB book, not many Tarzan movies even try. Tarzan's son, Jack, runs away to Africa and gets involved with the kidnapping of a small girl. In the process of rescuing her (through many chapters), Jack becomes known as Korak the Killer, the Son of Tarzan.
Both Tarzan and Korak are in on the finale, although Korak is the star of the movie. The big finish has Korak tied to a stake and rescued by Tantor, the elephant.
Searle is terrific as Korak, but Tabler is completely out of place as the ape-man. What were they thinking?! Very funny.
1920 THE SON OF TARZAN - feature version of serial (111 minutes)


P. Dempsey Tabler. Karla Schramm. Kamuela Searle.
1921 THE ADVENTURES OF TARZAN - 15 Chapter Serial (? minutes - video)


Elmo Lincoln. Louise Lorraine. Tarzan is battling a pair of villains in search of the lost treasures of Opar. The map to Opar is tatooed on Jane's shoulder. She manages to get captured often in this chapter play, but Tarzan is able to rescue her each and every time.
The copy I have is very poor and hard to watch. A confusing romp with tons of action serving no purpose.
1927 TARZAN AND THE GOLDEN LION (57 minutes)


James H. Pierce. Dorothy Dunbar. Tarzan, along with his companion Jad-bal-ja (the golden lion of the title), must journey to the mysterious City of Diamonds to save his friends.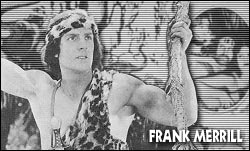 I don't know if it was worth the wait (it has only recently been "found"), but it is certainly a fun film. Lots of action and some interesting vine work.
Big Jim Pierce played Tarzan on the radio and he did a fine job. Pierce was Edgar Rice Burroughs' son-in-law.
1928 TARZAN THE MIGHTY - 15 Chapter Serial (? minutes)


Frank Merrill. Natalie Kingston.
1929 TARZAN THE TIGER - 15 Chapter Serial (90 minutes - video)


Frank Merrill. Natalie Kingston. Based on ERB's novel, Tarzan and the Jewels of Opar, the story once again deals with La and her amazing lost city. Tarzan, battling amnesia, fights his way through 15 chapters of high adventure.
I enjoyed this movie, the last of the silent Tarzans! Merrill is an extremely well-built actor and he is fairly believable as the ape-man. Watch the way he goes up those vines - it really is amazing!
Tarzan® is the property of Edgar Rice Burroughs, Inc., Tarzana CA
This independent reference to, and appreciation of, the Tarzan movies is copyright © 1995-2011 Matt Winans
Originally posted in October 1995 - Last Modified 01 July 2011
Send comments/criticisms/fan mail to Web-Host
Maintained in Memorial to Matt Winans (1964-2008)
Tarzan Movie Guide (d/b/a Brady World) is a participant in the Amazon Services LLC Associates Program, an affiliate advertising program designed to provide a means for sites to earn advertising fees by advertising and linking to amazon.com.