---

Matt's Jungle Jim Movie Guide
---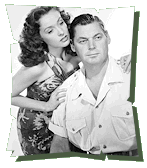 Johnny Weissmuller didn't waste any time finding a new film role after his final Tarzan film. Shortly after the completion of Tarzan and the Mermaids (1948), Weissmuller became Jungle Jim in the first of 16 low-budget, Sam Katzman-produced adventure films.

Based on the popular comic strip created in 1934 by Alex Raymond, Jungle Jim was an ideal role for the aging Weissmuller. The plots are farfetched and often have too many overlapping and confusing story threads. What they lack in storytelling, they more than make up for with all-out action and over-the-top heroics. There are enough spills and thrills in a typical Jungle Jim movie to fill three regular jungle epics!

Jungle Jim's first screen appearance did not star Johnny Weissmuller. Grant Withers played the famous adventurer in the 1937 Universal serial, Jungle Jim.

The last three Weissmuller films are not, strictly speaking, Jungle Jim films. Katzman had turned the rights for Jungle Jim over to Screen Gems, so they could begin work on the television series. Weissmuller still had three films left on his contract, so they made them using his own name (Jungle Johnny?).

---

---

Jungle Jim Movies
JUNGLE JIM (1937 - 12 chapter serial -DVD)


Grant Withers. Betty Jane Rhodes. Raymond Hatton. Al Duvall. Evelyn Brent. Bryant Washburn. Henry Brandon.
A young survivor of a shipwreck off the coast of Africa grows up to become the Lion Goddess of the Basumbo tribe. She is, as is often the case, heiress to a large estate.
A relative, assorted villains, and Jungle Jim (Grant Withers) all have reasons of their own for locating her.
JUNGLE JIM (1948 - 73 minutes - video)


Virginia Grey. George Reeves. Lita Baron. Rick Vallin. Holmes Herbert.
Jungle Jim leads scientist Hillary Parker to the hidden temple of Zimbalu in search of a rare cure for polio. The expedition is betrayed by a treasure seeking photographer who, with the "big magic" of his camera, has convinced the keepers of the temple that he is a god.
With the help of his pet crow, Caw-Caw, Jim exposes the false god, wipes out most of the natives, and rescues Miss Parker in an action-packed climax!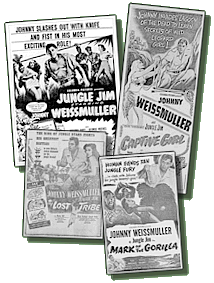 THE LOST TRIBE (1949 - 72 minutes)


Myrna Dell. Elena Verdugo. Joseph Vitale. Ralph Dunn. Paul Marion. Nelson Leigh. George J. Lewis.
Jim agrees to help keep the location of the lost city of Dzamm secret from invading outsiders. At the request of Zoron, the leader of Dzamm, Jim tries peaceful negotiation.
That, of course, doesn't work and Jim is forced to lead a mob of ruthless sailors to the hidden land. Jim and the city are rescued by a pack of protective gorillas and all ends well.
MARK OF THE GORILLA (1950 - 68 minutes)


Trudy Marshall. Suzanne Dalbert. Onslow Stevens. Robert Purcell. Pierce Lyden. Neyle Morrow. Selmer Jackson.
While digging up lost Nazi gold on an animal preserve, some thugs disguise themselves as gorillas to scare the natives away. Jim investigates, quickly uncovers the truth, and recovers the gold.
Weissmuller looked to be in great shape in this one.
CAPTIVE GIRL (1950 - 73 minutes)


Buster Crabbe. Anita Lhoest. Rick Vallin. John Dehner. Rusty Wescoatt.
Jungle Jim is asked to locate the Wild Girl of Lake Bokonji. He soon discovers she is an orphan who has lived in the jungle with only a tiger (?) for a companion. Hakim, an evil witch-doctor, murdered her parents years before.
Jim and thousands of monkeys defeat Hakim and his men in a wild finish.
While all this is going on, a crooked treasure hunter named Barton (played by former-Tarzan, Buster Crabbe) is searching for the treasure at the bottom of the Lagoon of the Dead. The lagoon is well named and Barton drowns there.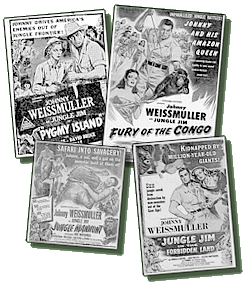 PYGMY ISLAND (1950 - 69 minutes)


Ann Savage. David Bruce. Steven Geray. William Tannen. Tris Coffin. Billy Curtis. Billy Barty.
Jim finds the dogtags of a lost U.S. Army captain in the charmbag of a dead pygmy. The Pentagon sends an expedition to locate the beautiful missing captain.
Both the United States and an unnamed foreign power (each in need of "strategic war materials.") are trying to find the rare N'goma plant, a fire-resistant fiber.
Jungle Jim helps the soldiers find Captain Kingsley and the plant. A tribe of savage pygmies help finish the villains.
FURY OF THE CONGO (1951 - 69 minutes - video)


Sherry Moreland. William Henry. Lyle Talbot. Joel Friedkin. George Eldredge. Rusty Wescoatt. Paul Marion.
Jungle Jim unknowingly leads a lost villain back to his band of cutthroats. They are holding a professor captive and forcing him to extract a powerful narcotic from a rare jungle animal called the Okongo (an odd looking striped horse).
Jim battles a leopard and a deadly, giant desert spider. With the help of a native tribe that worship the Okongo, and a stampeding herd of Okongoes, Jim defeats the villains and rescues the professor.
JUNGLE MANHUNT (1951 - 66 minutes)


Bob Waterfield. Sheila Ryan. Rick Vallin. Lyle Talbot.
An attractive freelance photographer needs Jim's help to find a football star/war hero lost in the jungle. They soon discover that he isn't lost and he has become the leader of a native tribe.
They also find a crooked chemist forcing the locals to mine radioactive rock. The villain uses this material to create synthetic diamonds.
Armed with exploding coconuts, the missing war hero helps Jim spoils the villain's plans.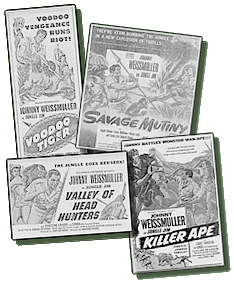 JUNGLE JIM IN THE FORBIDDEN LAND (1952 - 65 minutes)


Angela Green. Jean Willes. Lester Matthews. William Tannen. George Eldredge. Frederic Berest.
Jungle Jim, along with a beautiful anthropologist, gets mixed up in a wild scheme for ivory. The villains hope to use a pair of giant-people to find the ideal location to slaughter the elephants. They even manage to frame Jim for murder.
Stampeding elephants, a wounded giant-man, and Jungle Jim put an end to the villains and their plans!
VOODOO TIGER (1952 - 67 minutes)


Jean Byron. James Seay. Jeanne Dean. Charles Horvath. Robert Bray. Michael Fox. Rick Vallin.
The U.S. Army is searching for a stolen art collection and the war criminal who can lead them to it. A band of thugs is also on the Nazi's trail.
Things get interesting after a plane crash leaves the fleeing Nazi, along with an exotic dancer and her dance partner, a bengal tiger, stranded in the Valley of the Headhunters.
Jungle Jim rescues them all with a little help from the tiger, who the headhunters believe is their voodoo god!
SAVAGE MUTINY (1953 - 73 minutes - video)


Angela Stevens. Lester Matthews. Nelson Leigh. Charles Stevens. Paul Marion. Gregory Gay. Leonard Penn. Ted Thorpe.
Jim is given the unenviable task of assisting in the relocation of the natives of Tulonga Island. The U.S. Government has chosen the island as the site for an atomic bomb test.
Foreign agents do what they can to use the test to their advantage and discredit the U.S. Jungle Jim foils their plans, making the jungle safe, "wherever free men seek to find the weapons of peace."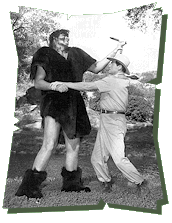 VALLEY OF HEAD HUNTERS (1953 - 67 minutes)


Christine Larson. Robert C. Foulk. Steven Ritch. Nelson Leigh. Joseph Allen Jr. George Eldredge. Neyle Morrow. Vince M. Townsend Jr.
With the help of a power hungry native chief, a gangster lawyer tries to prevent Jungle Jim and the government from obtaining the mineral rights to the Valley of Head Hunters (not to be confused with the Valley of the Headhunters seen in Voodoo Tiger).
Jim manages to unite two native tribes and defeat the bad guys.
KILLER APE (1953 - 68 minutes)


Carol Thurston. Max Palmer. Burt Wenland. Nestor Paiva. Paul Marion. Eddie Foster. Rory Mallinson. Ray Corrigan. Nick Stuart.
Jungle Jim discovers some crocodiles who have no desire to fight. Upon further investigation he finds a group of scientists working on a secret extract in the dangerous Canyon of the Ape.
The villains capture Jim and his friends but Tamba brings the monkeys to the rescue. While our heroes make their escape, the hideous Killer Ape slaughters the crooks. Jim then destroys the Killer Ape - he leaves it to die in a fire! Yikes!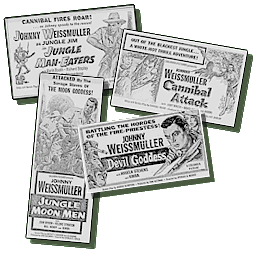 JUNGLE MAN-EATERS (1954 - 68 minutes)


Karin Booth. Richard Stapley. Bernard Hamilton. Gregory Gay. Lester Matthews. Paul Thompson. Vince M. Townsend Jr. Louise Franklin.
An unscrupulous diamond merchant journeys to the jungle in search of a recently discovered mine. With the help of an angry native tribe he hopes to smuggle the diamonds out of Africa.
In an explosive climax, Jungle Jim recovers the diamonds, while rescuing both a native chief's newborn son and a beautiful doctor!.
Jim actually FLIRTS with the doctor!
CANNIBAL ATTACK (1954 - 69 minutes - video)


Judy Walsh. David Bruce. Bruce Cowling. Charles Evans. Stevan Darrell. Jospeh A. Allen Jr.
A conniving jungle temptress uses her womanly wiles and a native tribe disguised as crocodiles to steal government cobalt shipments.
Johnny battles a leopard and a few crocs (both real and native) before ambushing the villains in a watery finish.
JUNGLE MOON MEN (1955 - 70 minutes)


Jean Byron. Helen Stanton. Bill Henry. Myron Healey. Billy Curtis. Michael Granger. Frank Sully. Benjamin F. Chapman Jr. Kenneth L. Smith. Ed Hinton.
Oma, an immortal priestess, needs a high priest. Johnny, after being captured by her moon worshipping, blowgun wielding pygmies, agrees to fill the role on the condition his companions are released.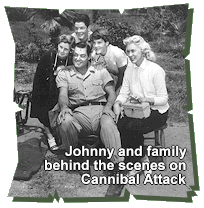 Things don't work out and lions are set loose in the Temple of Baku. In the confusion, Oma is exposed to sunlight and turns to dust leaving Johnny and his friends free to go.
DEVIL GODDESS (1955 - 70 minutes)


Angela Stevens. Selmer Jackson. William Tannen. Ed Hinton. William M. Griffith. Abel M. Fernandez. Frank Lackteen. Vera M. Francis.
A professor and his beautiful daughter are looking for a man named Dixon. They think he might be involved in the recent appearances of a fire demon.
Meanwhile, a gang of thugs have come to the valley in search of ancient treasure.
Johnny and the professor locate Dixon, recover the treasure, and rescue a tribe of local natives from a deadly volcano!
This movie relies VERY heavily on previously used footage...

---

Animal Antics
Many (I'm not one of them) find Cheeta's antics in the Tarzan series unbearable - they obviously haven't seen the Jungle Jim movies. The animal hijinx in these pictures are incredible!
The Jungle Jim movies often end with Tamba (Jim's chimp companion) doing the most outrageous things. It's never enough for Tamba to just do something silly, he often does something downright crazy - like shooting Jim's hat off with an accidental rifle shot, or driving a truck into a tree at a high speed!
These episodes always seem to amuse Jim and the supporting players and the movies end with them laughing it up.

---

Jungle Jim on Television
Following the completion of the Jungle Jim films, Weissmuller moved on to the Jungle Jim television series. The series also featured Norman Fredric as Jim's faithful friend, Kaseem, and Martin Huston as Jim's son, Skipper (not to be confused with Jim's canine film companion of the same name).
The series ran for 26 episodes and each story opens with a fantastic scene of Jim diving off a very high cliff!

---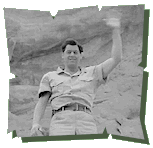 - Back to Matt's Tarzan Movie Guide
©1997-2007 Matt Winans
A very special thanks to Geoff St. Andrews, the world's #1 Weissmuller Fan!
Created 12 April 1997
Last Modified 22 January 2011
Send comments/criticisms/fan mail to Web-Host