Bomba the Jungle Boy Books & Comics

---
---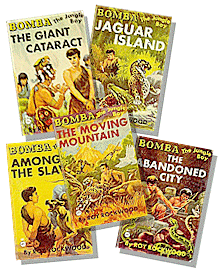 Bomba the Jungle Boy, penned by Roy Rockwood (a Stratemeyer Syndicate pseudonym) and published in 1926, was one of the earliest and most successful of the many Tarzan imitators. The length of the series indicates the books were popular and sold well.
The books are poorly written but exciting if you can get past sentences like: "But from time to time the dreaded headhunters from the faraway region of the Giant Cataract invaded this district in search of the hideous trophies which their name implied wherewith to adorn their wigwams." (Bomba the Jungle Boy at the Giant Cataract, 1926)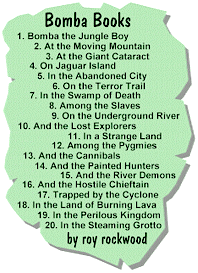 Deidre Johnson's Edward Stratemeyer and the Stratemeyer Syndicate [1993, Twayne Publishers] is a fantastic book that covers the history of the syndicate and the writers responsible for the creation of Bomba.
It's an informative book and I enjoyed it very much.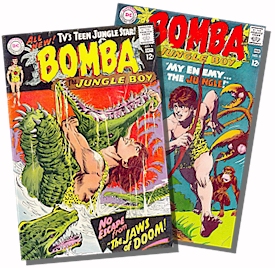 Bomba Comics
Starting in 1967, DC Comics published a Bomba the Jungle Boy comic. It wasn't well received and lasted only seven issues. Many of these tales were later reprinted with minor art and lettering changes as Simba stories in DC's Tarzan comics.

---
Coming Soon - Book Summaries and Reviews!
---


©1996-2007 Matt Winans
Bomba the Jungle Boy Books & Comics
Originally Posted 20 September 1996
Last Modified 22 January 2011
Send comments/criticisms/fan mail to Web-Host